When changing any part of a roof, homeowners often worry about the hassle involved, from the actual work itself to ensuring the design adheres to building regulations and required planning permissions. As roof lanterns form part of a roof, it's important to know what to expect, planning your project to make sure every box is ticked. We've made things easy by putting together this simple guide to the planning permission involved when undertaking a roof lantern installation.
What Is a Roof Lantern?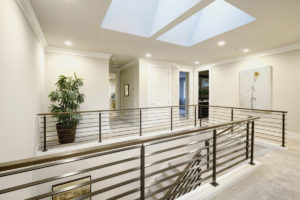 Not to be confused with a skylight, a roof lantern is a larger structure which provides both functionality and character to a home in bucketloads. Beautiful, classic and ornate, they're a great addition to add to a flat roofed area such as a conservatory or orangery, as well as a kitchen or single storey extension. Imagine cooking under the stars or relaxing with a good book while clear blue skies are visible above. These innovative glazing products are one of the best ways to achieve expansive aerial views of the sky from a selected room in your property. Far from acting as just an attractive feature, they also offer energy efficiency benefits, as well as letting in tonnes of natural light throughout the space.
Do You Need Full Planning Permission for Roof Lanterns?
While building regulations are always an important part of any structural alternations to a property, one of the most surprising things UK homeowners find out when installing a roof lantern is that planning permission isn't required. In fact, even if you are re-roofing your property, you don't need it as long as the project falls within specific conditions. For roof lanterns, you can obtain a 'permitted development' confirmation. This isn't required for a project to start, but it's written proof from your local council that your project falls within permitted guidelines, giving you peace of mind and preventing issues further down the line.
What Limitations Do You Need to Be Aware of?
As long as the changes don't exceed the highest part of the roof and remain within 150mm of the existing roof plane, you should feel confident proceed. Any openings will also need to be installed 1.7 metres above floor level and side facing windows should be fitted with obscure glazing. However, your project must meet building regulations approval status. This takes into account several factors such as structural alterations, your roof's ability to carry new weight, weatherproofing and insulation. Fire performance may also need considering if close to a boundary. Use a roof lantern specialist to ensure your designs and installation will meet all building regulation requirements.
Getting Expert Advice
One of the easiest ways to manage your project is by speaking to an expert who can help you from the minute you start planning your roof lantern installation. This is what our specialist team do here at Hamiltons, having years of experience working on projects in homes and businesses across Surrey and South London. Our in-house experts offer a personalised experience to help you design your bespoke roof lantern, from assessing the space for ideal sizing to talking you through the benefits of either aluminium or uPVC frames. Whatever the period of your property, there are designs available which are the perfect fit for your home.
Living in Sutton, Tadworth, Reigate or surrounding areas? Get in touch for a free quotation now.