Explore our bifold door section
Explore our bifold door section
Bifolding Doors for Surrey & South London – Aluminium Collection
For those looking for products made from the highest quality materials, aluminium offers a superior option for your new windows.
As a naturally lightweight, non-corrosive material, aluminium is perfect for windows and doors with its finish famous for providing both security and stability to any property and could even increase the value of your home.
Stylish Addition To Any Home
Bifolding doors are one of the best ways to make use of your spaces, especially when opening up into an outdoor area such as a garden or patio.
These popular doors consist of a number of glass panels which can be folded and stacked to one or both sides of the doorway, creating more room than traditional hinged doors.
Here at Hamiltons, we're delighted to offer our customers bifolding doors as part of our high quality collection of aluminium products.
Aluminium produces strong, contemporary looking frames which can hold large panes of glass, with its powder coated finish giving it enhanced durability.
Why Choose Bifolding Doors for Your Home?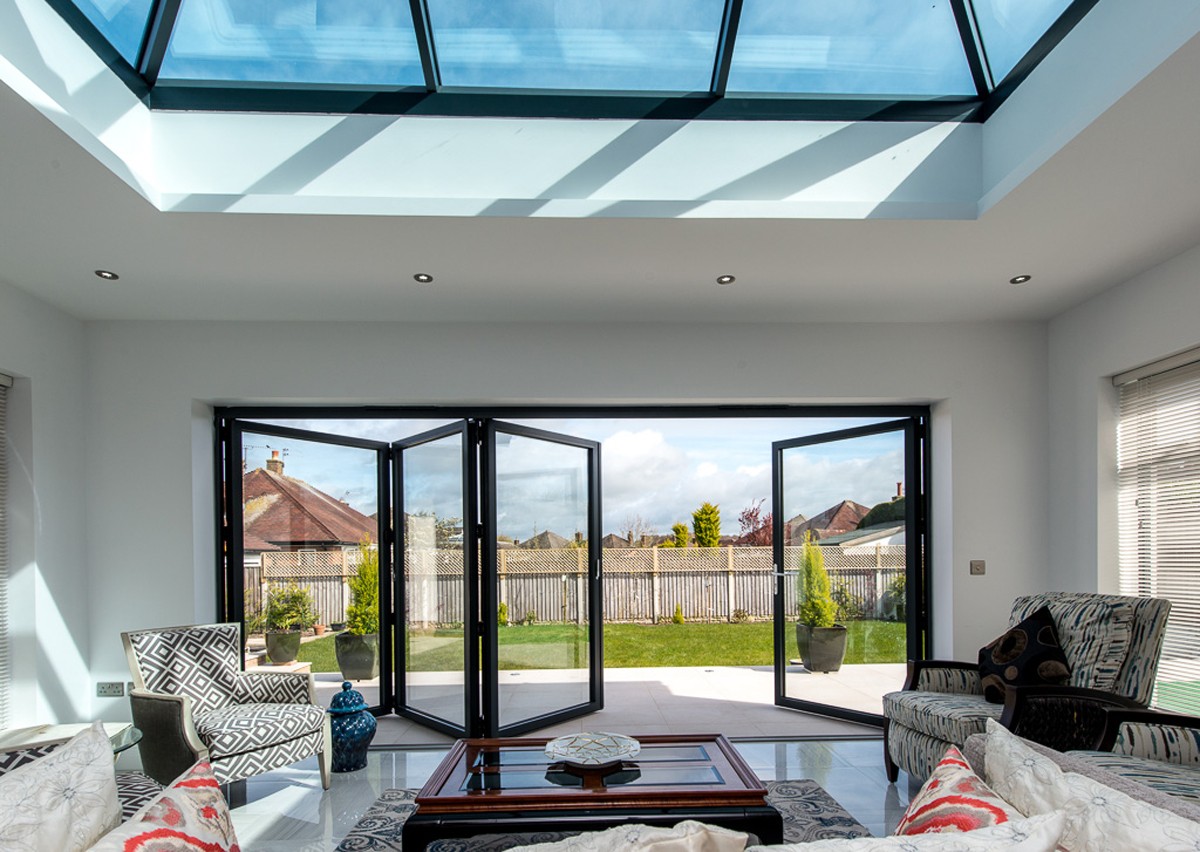 OPEN UP YOUR SPACES
Slimline profiles and large opening widths allow for rooms to feel larger, look brighter and provide unrivalled views of outdoor areas due to their narrow sightlines.
EASY ACCESS
Stacking in a concertina effect out of the way of the door space, bifolds enhance both flow and access – ideal for entertaining, keeping an eye on the kids in the garden or creating an open plan feel between inside and out.
ATTRACTIVE STYLES
Not only are bifolds highly functional, but they're beautiful to look at too, with an array of styles to select which suit any period or character of property.
CUSTOM DESIGNS
Choose from a variety of colours and finishes to truly customise the look of your bifolds on both sides of the door, including quality hardware (such as handles and hinges) which match your doors perfectly.
IDEAL FOR HOMES & COMMERCIAL PROPERTIES
As a popular glazing product, bifolds aren't just limited to residential premises. Business owners are enjoying the professional, yet welcoming feel they create while adding practicality to anywhere from offices to restaurants.
Great team work, very efficient with detailed finishing. Significantly reduced the noise! Will highly recommend to friends and family
All very good and left the place very tidy – which is very much appreciated