Explore our bifold door section
Explore our bifold door section
Bifolding Doors for Surrey & South London – Aluminium Collection
For those looking for products made from the highest quality materials, aluminium offers a superior option for your new windows.
As a naturally lightweight, non-corrosive material, aluminium is perfect for windows and doors with its finish famous for providing both security and stability to any property and could even increase the value of your home.
Stylish Addition To Any Home
Bifolding doors are one of the best ways to make use of your spaces, especially when opening up into an outdoor area such as a garden or patio.
These popular doors consist of a number of glass panels which can be folded and stacked to one or both sides of the doorway, creating more room than traditional hinged doors.
Here at Hamiltons, we're delighted to offer our customers bifolding doors as part of our high quality collection of aluminium products.
Aluminium produces strong, contemporary looking frames which can hold large panes of glass, with its powder coated finish giving it enhanced durability.
Why Choose Bifolding Doors for Your Home?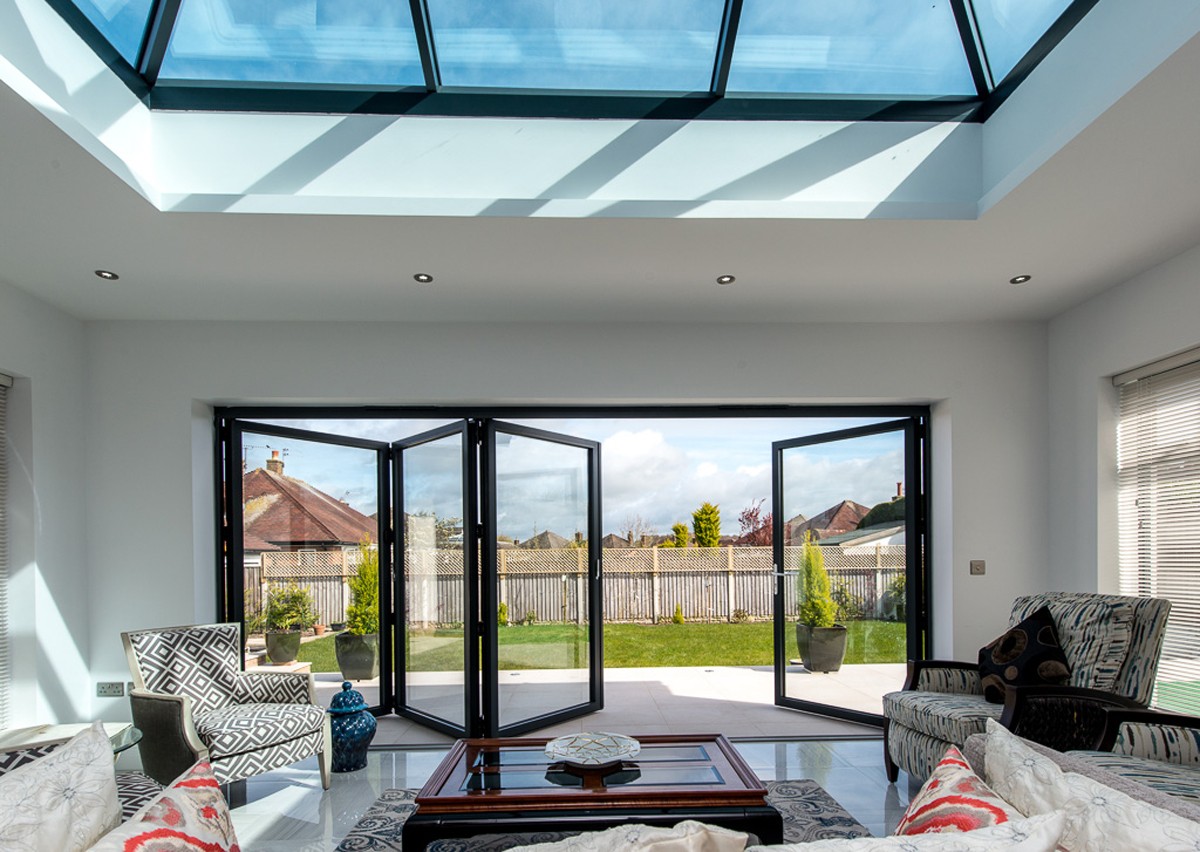 OPEN UP YOUR SPACES
Slimline profiles and large opening widths allow for rooms to feel larger, look brighter and provide unrivalled views of outdoor areas due to their narrow sightlines.
EASY ACCESS
Stacking in a concertina effect out of the way of the door space, bifolds enhance both flow and access – ideal for entertaining, keeping an eye on the kids in the garden or creating an open plan feel between inside and out.
ATTRACTIVE STYLES
Not only are bifolds highly functional, but they're beautiful to look at too, with an array of styles to select which suit any period or character of property.
CUSTOM DESIGNS
Choose from a variety of colours and finishes to truly customise the look of your bifolds on both sides of the door, including quality hardware (such as handles and hinges) which match your doors perfectly.
IDEAL FOR HOMES & COMMERCIAL PROPERTIES
As a popular glazing product, bifolds aren't just limited to residential premises. Business owners are enjoying the professional, yet welcoming feel they create while adding practicality to anywhere from offices to restaurants.
Great team work, very efficient with detailed finishing. Significantly reduced the noise! Will highly recommend to friends and family
All very good and left the place very tidy – which is very much appreciated
I have always found your installers very courteous, today was no exception – thank you so much
Benefits of our bifolds include:
Custom sizing for the perfect fit

Improved energy efficiency & low u-values

Durable, strong materials

Configurations to suit your setup

Reputable manufacturers such as Origin, Schuco & Smart Systems

Minimal maintenance required
Here are what some of our customers have been saying about our bifolds:
Excellent workmanship. Friendly, polite, and worked very hard
Faultless job from Hamilton Windows. Great service from start to finish.
Polite, efficient, tidy, and the work is of the highest quality.
Colours
An extensive range of colours gives customers an opportunity to personalise their bifolds as much as possible to perfectly complement rooms. Both frames and fittings can be coloured exactly how you want, choosing from several hundred RAL colours. This can be a single shade covering both sides of the frame or dual colours so that each side of your doors fit in with the rest of the room or exterior of your home. Depending on the manufacturer, there may also be options for additional effects and finishes to be added. This includes textures, woodgrain effects, and matt, gloss and satin finishes. Just ask for details once you've selected your manufacturer.
Configurations
Having such broad choice when it comes to configurations allows homeowners to maximise their spaces while achieving the ideal look for their rooms. Most manufacturers will allow you to select up to 6 to 8 panels for your doors. Each panel can move inwards or out, leaving configuration options wide open. They can move to the right, left or start from the middle, meaning panels can fold and stack to one side or both.
Corner Bifolds
External corner bifolds open from both sides of a room or home extension from a 90° angle, becoming a great focal point and alternative to traditional door positions.
Like standard bifolding doors, corner bifolds come in any number of combinations that you see above.
Bay Bifolds
Bay sets of bifolding doors involve placing bifold panels around 3 straight sides, with the panels folding along each edge.
Blinds for Bifolds
Another popular choice when choosing bifolds for your home is to select integral blinds which can be fitted between the glass panes, allowing homeowners to control the amount of light and privacy coming into their home. These are ideal for bifolds where each door face stacks neatly against the next, providing a blind which doesn't interfere with the mechanism or reduce opening widths.
Moreover, internal blinds installed between the sheets of glass will be maintenance-free, protected from dust and damage while the user can still slant, raise and lower the slats using either a magnet or remote control. If you also want to opt for matching integral blinds for your window glazing, this is also something we're happy to supply and install for your home.
Made to Measure, Bespoke Bifolds
Hamiltons' collection of custom bifolding doors are ideal for homes and businesses who want a quality product which ticks all the boxes for both aesthetics and functionality. Offering a number of state-of-the-art features and benefits, conscientious property owners will love this new addition to their spaces.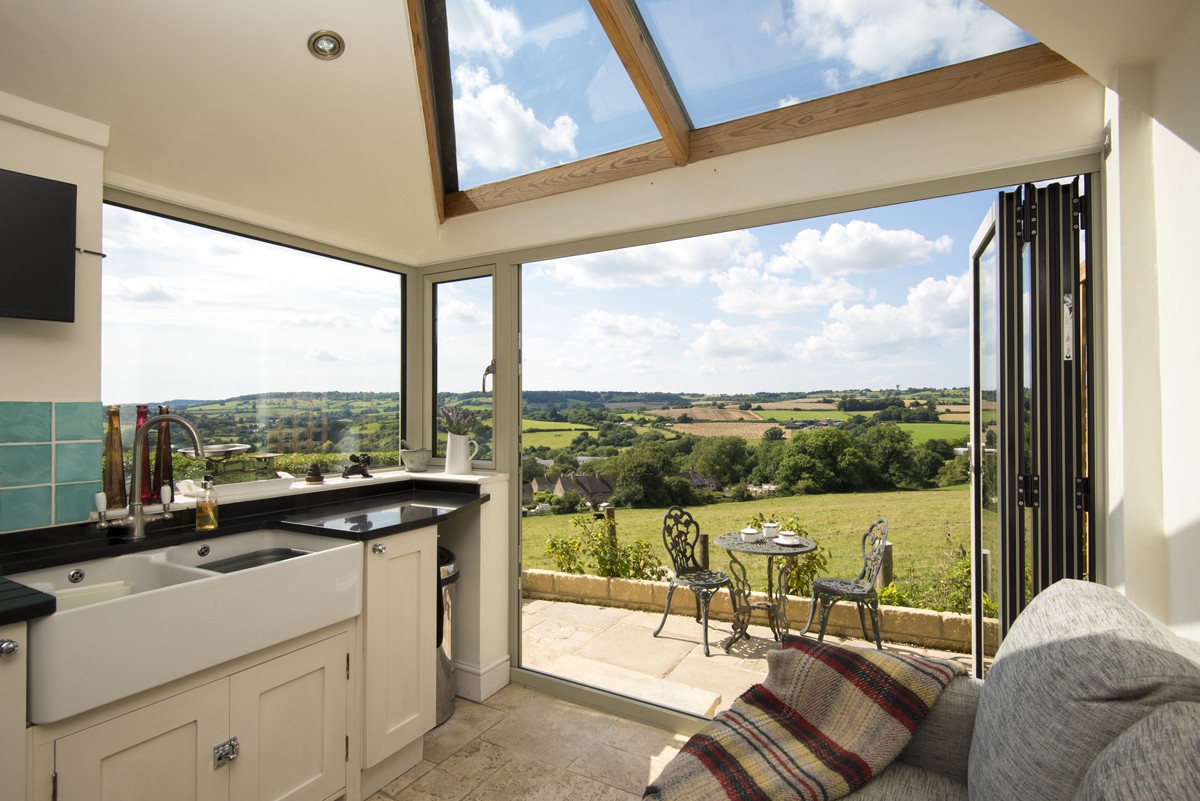 Bifold Door Supply & Installation Specialists
Our friendly team of window and door specialists have decades of experience, working across South London and Surrey to meet the needs of home and business owners with our supply and installation services. We'll help transform the look and feel of your property with our aluminium collection of bifolding doors, expert craftsmanship and outstanding customer service from the moment you contact us for your free quotation to the aftercare we provide after successful project completion.
Take advantage of the range of benefits that Hamiltons' bifolding doors bring – contact us today! Call 020 8390 4855 or alternatively, just fill in a few of your details on our contact form.