Explore our bifold door section
Explore our bifold door section
Bifolding Door Colours & Configurations – Complement Your Home Perfectly
When selecting bifolding doors for your home, you can truly customise them to both your tastes and spaces by choosing from an array of colours and configurations available.
Once you've chosen your manufacturer, one of our expert team will visit your home and conduct a site survey, making sure we have all the information we need to carry out a smooth project from start to finish. It's here that we'll check through specifications with you, including your choice of colours and configurations.
COLOURS
Both frames and fittings can be coloured exactly how you want, choosing from several hundred RAL colours.
Aluminium frames are powder coated to achieve a stunning coloured finish. This can be a single colour covering both sides of the door frame or dual colours so that each side of your door fits in with the rest of the room or outside of your home.
Depending on the manufacturer, there may also be options for additional effects and finishes to be added. This includes textures, woodgrain effects, and matt, gloss and satin finishes. Just ask for details once you've selected your manufacturer.
HANDLES
Choose from a range of modern and elegant handle collections to add the perfect finishing touch to your bifolds. Certain models can also be fully coordinated to your door by selecting a specific RAL colour.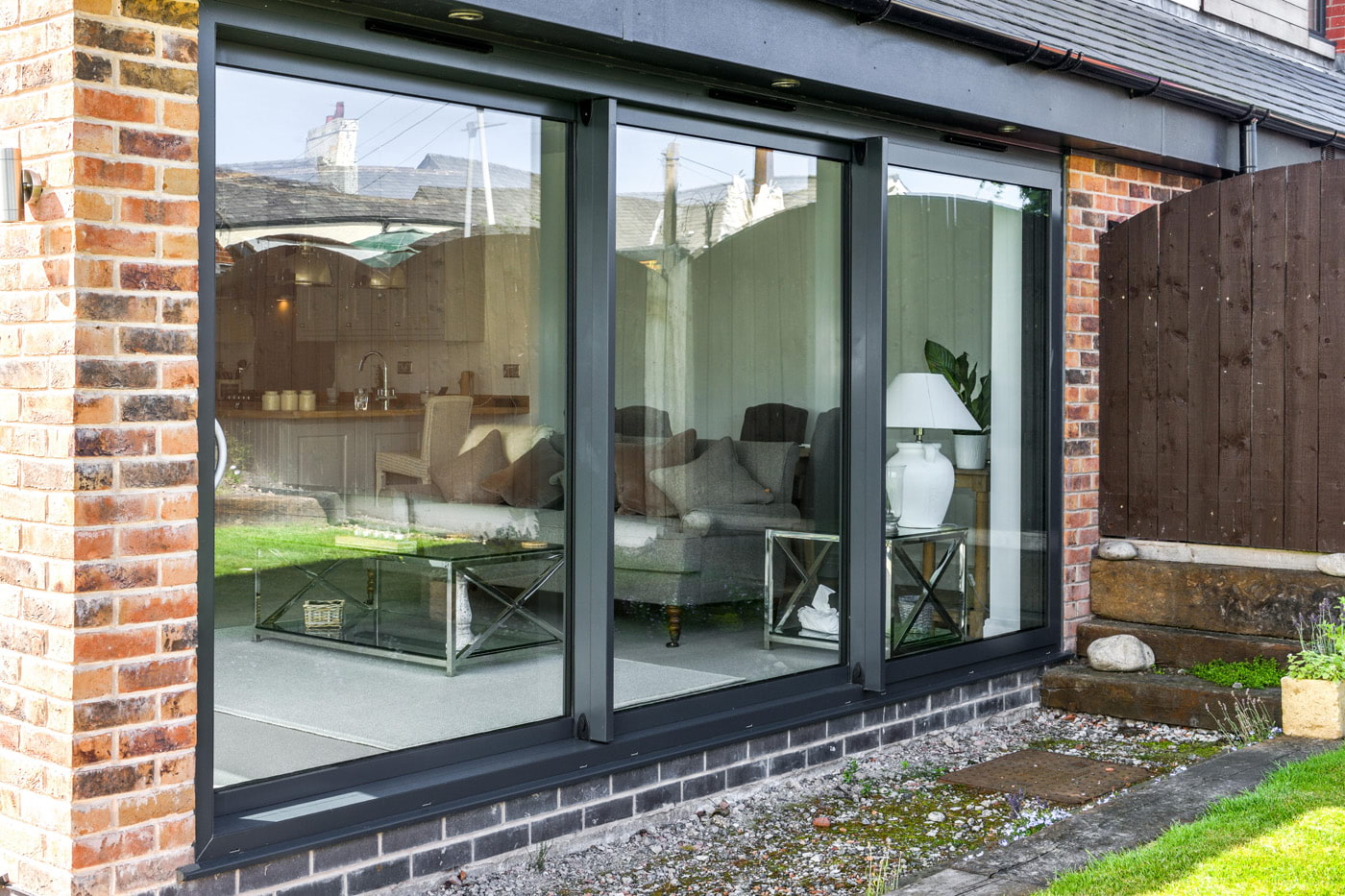 CONFIGURATIONS
Luckily, all of our aluminium bifolds are made to measure, so you don't have to worry about finding a specific size. As a rule of thumb, size limits depend on the manufacturer, but each door panel can usually be up to either 1m or 1.2m wide and up to 2.5 or 3m tall.
Wide range of configurations
Such choice when it comes to configurations allows homeowners to maximise their spaces while achieving the ideal look for their rooms.
Most manufacturers will allow you to select up to 6 to 8 panels for your doors. Each panel can move inwards or out, leaving configuration options wide open. They can move to the right, left or start from the middle, meaning panels can fold and stack to one side or both.
Corner Bifolds
External corner bifolds open from both sides of a room or home extension from a 90° angle, becoming a great focal point and alternative to traditional door positions. Like standard bifolding doors, corner bifolds come in any number of combinations that you see above.
Bay Bifolds
Bay sets of bifolding doors involve placing bifold panels around 3 straight sides, with the panels folding along each edge.
Great team work, very efficient with detailed finishing. Significantly reduced the noise! Will highly recommend to friends and family
All very good and left the place very tidy – which is very much appreciated
I have always found your installers very courteous, today was no exception – thank you so much
Smarts Bifold Features
Profile – A slimline profile offers a narrower sightline, opening up your rooms more than traditional patio doors. Square and round edge options are available to suit your needs.

Threshold Options – Smarts bifolds boast various threshold heights for seamless flow between rooms. Choose a low threshold for easy access or rebated options to improve weather resistance.

Security – Superior multi-point locking creates a high security door system with a 'lift up' main door handle that'll you'll have come accustomed to on other doors.

Low Maintenance – Strong, lightweight aluminium is the superior choice for bifolds, adding the quality touch to your doors. This low maintenance material retains its strength over time.

Weather Performance – If you're concerned about retaining warmth and creating an energy efficient home, you'll appreciate each unit's thermal break which improves the u-value (1.5 W/m2K) and thermal efficiency of the door. Their fully weathered seals ensure the cold weather stays outside.

Energy Saving – Thermally efficient (low U-value of 1.32 W/m2K) with weather tight seals, Origin's doors are designed to keep you comfortable throughout each season. Keeping your home insulated all year round, these energy efficient doors can help reduce your energy bills.

Colours & Configurations – Smart Systems extensive colours and effects includes their incredible Sensations range, which provide a textured finish to your coloured doors. Glazing options are also available. Smarts also have a range of matching accessories so that your rooms and doors can fully coordinate.
Smarts bifolding doors host a range of opening and configuration options, including:
Two to six pane configurations
Open in or out
Narrow sightline of only 133mm
Max height 2500mm per sash
Max width 1000mm per sash
For more details, take a look at our bifold door colours & configurations page.
Order your Smart System Doors
Hamilton Windows offer friendly, efficient services with honest, competitive pricing. Arrange to speak with one of our expert team or get your free, detailed quote now.