Bi-fold doors are rising stars when it comes to interior design – an attractive feature in both residential and commercial properties. The frames can be made using many different materials from traditional uPVC to lightweight and durable aluminium.
At Hamiltons, we specialise in aluminium bi-fold doors and we're proud of our custom-made designs which provide security and stability. We're confident that they can actually increase the value of your home. Here's why…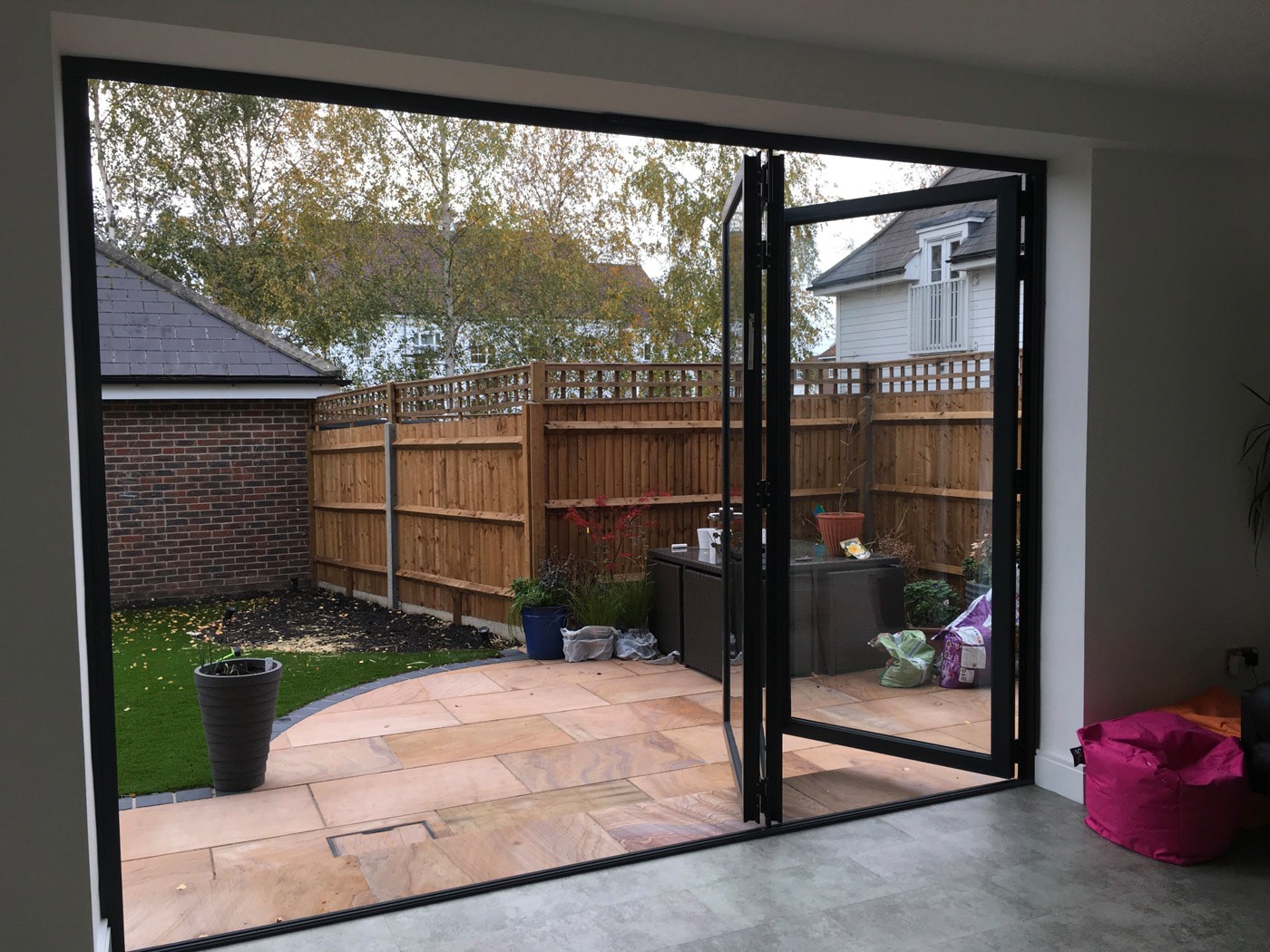 1. Make Your Space Look Larger
Bi-fold doors have the seemingly magical ability to make even the smallest space look larger. What trickery is this, you may ask? Well, it's simple really. By opening up your room and bringing your indoor and outdoor areas together, you will naturally create the sensation of greater space.
Throw your doors open to bring the outside in, and the inside out. The additional airflow and enhanced light will really open up your home.
2. Energy Efficient
It may seem like a contradiction, but bi-fold doors are actually incredibly energy efficient, keeping your home warm and bright. You may see the impact of their thermally efficient capabilities reflected in lower heating and lighting bills.
Bi-fold doors provide unrivalled versatility when compared to traditional French or patio doors. Throw them open in warm weather to maximise airflow and enjoy the sunshine – or keep them closed to stay cosy in the cooler months.
3. Home Security
Bi-fold doors have a bit of a bad rep when it comes to home security – but this is unfounded. In fact, the intricate, high-security locking system in our custom-designed bi-fold doors coupled with the rigid frames would actually be much harder to crack than the locks used for traditional French or patio doors.
Multi-locking systems are not unusual in bi-fold door designs. Investigate your options and choose a locking system that will help you to sleep at night.
4. Low Maintenance Costs
How many times have you looked around a property and been put off by the amount of work or maintenance that it would need to keep it in tip-top condition? Aluminium bi-fold doors may be lightweight, but they are actually very hardwearing and can hold their own against the elements.
Such a modern and low maintenance addition to your property is sure to pique the interest of buyers – and it's estimated that they can actually add 5% to 10% to the value of your home.
5. Create That WOW Factor
There's no doubt that bi-fold doors are the most desirable feature that can give your home that WOW factor. If you're trying to sell your property, potential buyers will be bowled over by the bright, airy space and swish flow from home to garden.
Entertaining at home will become a joy as you impress your guests with the clever use of space and materials to create a delightful dining / seating area.
Basically, bi-fold doors just look great!
Expert bi-fold door installation in Surrey and South London
If you are looking to install bi-fold doors in your Surrey or South London property, then our experts can help you to choose the right style to suit your space.
Available in an array of colours and styles, our non-corrosive and lightweight bi-fold doors are made from aluminium and designed with both style and functionality in mind. Take a look at our gallery for inspiration.
Our aluminium bi-fold doors are custom-sized for the perfect fit and are suitable for both residential and commercial properties. Call our expert team today for further information and for your free, no-obligation quote on 020 8390 4855 or email info@hamiltonwindows.co.uk.