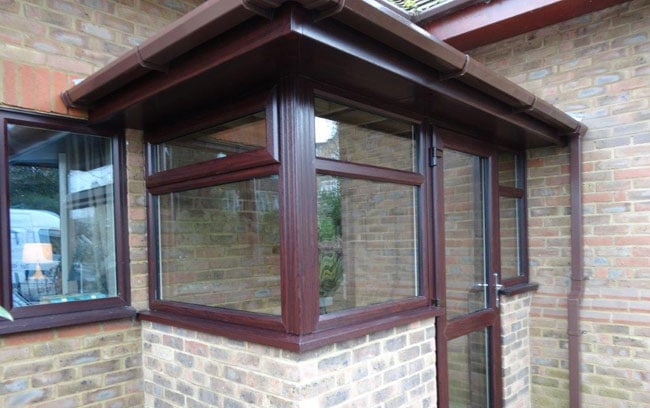 UK planning restrictions allow practically any homeowner to add a small porch at the front of their house. Providing the dimensions are within certain limits, you shouldn't need planning permission.
If you're thinking of adding a porch, or refurbishing your existing porch, you might be thinking about the advantages of having one. In this article, we'll run through some of the benefits of having a porch, and the potential to save money when you fit one.
The benefits of a porch
Porches are usually located directly in front of the main front entrance to a house. There are a few key reasons for adding a porch, aside from the aesthetic benefits.
The first is extra space – something we're all very keen to find in our homes. Porches add useful hanging space for garments, or space to store shoes. If your gas or electricity meter is located near the door, a porch will enclose it and make it look tidy.
Your porch can also serve as an extra layer of defence against intruders. If you have a good quality uPVC or composite door fitted, few burglars will risk trying to get in. Porches offer the same multi-point locks as your main front door; it would simply take too much time to break through two of them.
A porch could also help to improve energy efficiency by preventing heat loss to the outside. If designed correctly, you should be able to enter your porch, close the door, and then open the door to the house, so the warm air indoors is retained.
Designing an effective porch
There are two main ways to add a porch to your home. You can buy a DIY kit, or have the porch professional built and installed.
The first option, DIY, is certainly cheaper, and if you're experienced with building, you should be able to construct the porch yourself.
But aesthetically, and for security, we recommend that you go with a professional glazing company.
Why? Look around your own neighbourhood at the various porches that have been added. Some will be very attractive, and they'll blend very nicely with the appearance of the property. Others will be noticeably basic, and look more like plastic boxes attached to the front.
A professionally built porch gives you an affordable solution without the hassle of trying to build something you've never built before. Glaziers will advise you on the best style of windows, doors and roof, and will help you to avoid a porch that overheats on hot days, or lets draughts in when it's cold.
Professional installation also offers considerable peace of mind when it comes to home security.
Getting a quote
Porches are generally very affordable and take little time to construct. Because all of the work takes place outside the home, there's minimal disruption, and few alterations to the fabric of your home.
To discuss a new porch, or a replacement for an old porch, we'd be pleased to give you free, expert advice. Contact us today for a Hamiltons consultation and a quote, without obligation.