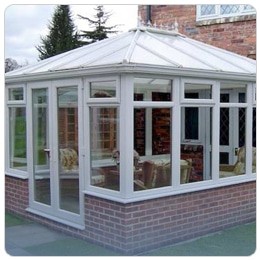 Whether your design preference is sleek and modern, or traditional Victorian, there are a number of reasons to invest in a conservatory Surrey. And today, Hamilton Windows is counting down our top 10!
1. Extra space
Perhaps the main reason to install a conservatory is the added space you, your family and your belongings will be afforded. If things have seemed a bit cramped in your home of late, having a conservatory built will allow you to spread out.
2. Versatility
With your home's newfound square footage, you'll discover there are a number of functions to which you can put your conservatory. Whether you need a home office, a playroom for the kids, or a private sanctuary to get away from it all, a conservatory's natural adaptability will accommodate a wide range of uses.
3. Affordability
While building a conservatory isn't necessarily an inexpensive undertaking, the cost could pale into insignificance when compared to the price of building an extension, or moving house.
4. Added property value
The extra space and functionality of a conservatory could add thousands to the value of your home, making it a wise long-term investment.
5. Unique selling point
If you do come to put your house on the market, a conservatory will make an attractive and unique selling point for prospective buyers. A beautifully appointed conservatory with its numerous benefits could be just the thing to clinch the deal!
6. Natural light
Whether you're looking to cure Seasonal Affective Disorder (SAD), or you just want to let the light in, conservatories are a great way of allowing extra light to pour through the windows and doors of your home.
7. Styles
Conservatories come in a number of styles, which will accommodate a wide range of tastes. So whether your preference is uPVC, aluminium, or wood, you'll find the perfect design for you.
8. Enjoy your garden all year long
With a conservatory's large panelled windows and doors, you'll be able to enjoy the view of your garden, no matter what the weather's like outside.
9. Sense of outdoor living
With Britain's unpredictable climate, time in the great outdoors isn't always an option. But with your very own conservatory, you'll be able to create a sense of outdoor living, from the comfort of your home.
10. A special dining venue
When you invite your friends over for a dinner party, where better to host than from the comfort of your conservatory? Dine under the stars with unparalleled views of your garden, and you'll be sure to impress your guests.
Get in touch with Hamilton Windows
In addition to providing windows, doors and roofline products, Hamilton Windows is also able to plan and build its customers their dream conservatory. So, to get in touch with the team, simply:
We look forward to hearing from you, so you can begin taking advantage of the many benefits that a conservatory brings.