Choosing the right shutter for your home
Whether you want to create a dark sleep oasis or a bright, private living space, choose from our range of beautiful window shutters.
Here at Origin Shutters, we offer a wide range of beautiful, customised interior shutters to help you create a home that blends style and functionality – enhancing privacy while letting in plenty of natural light, or blocking out light for a perfectly dark and peaceful sleep space. Whether you need window shutters for your kitchen, bathroom, bedroom, cinema room or office, we can help you find the ideal option to suit the style and requirements of the room.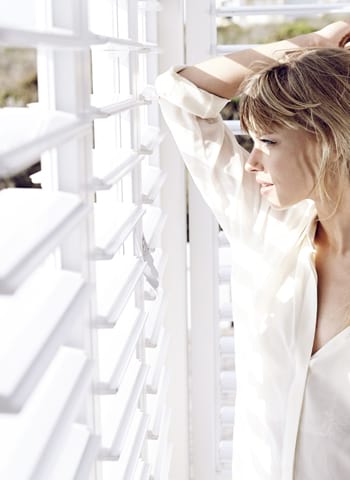 Blackout shutters
Our specially designed blackout shutters offer the perfect solution for light sleepers, people with streetlights just outside their bedroom window, or those who need to sleep during the day. Blackout shutters are also popular with homeowners who want to create a cinema room within the house, or those who have young children that need to nap during the day.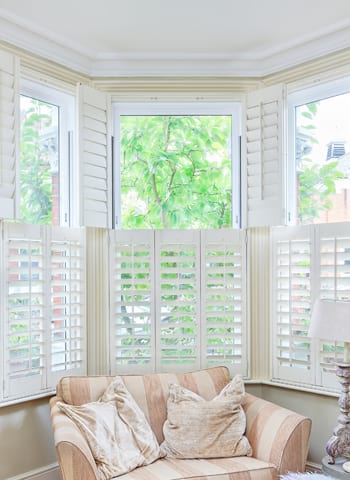 Café-style shutters
You don't always need to dress the whole window to achieve good levels of privacy. Café-style shutters cover just the bottom portion of the window (up to two-thirds), leaving the rest free to let in plenty of natural light. They are popular for rooms that are at street level.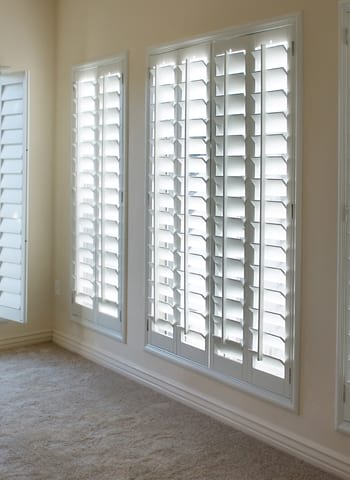 Full-height shutters
Our elegant full-height interior shutters are a popular choice with homeowners as they offer a classic look within any room. They are perfect as bedroom shutters, bay window shutters, living room shutters and more – suitable for all types of windows and a beautiful addition to any room. Our full-height shutters come in various materials and finishes and can be customised with mid-rails to balance the design.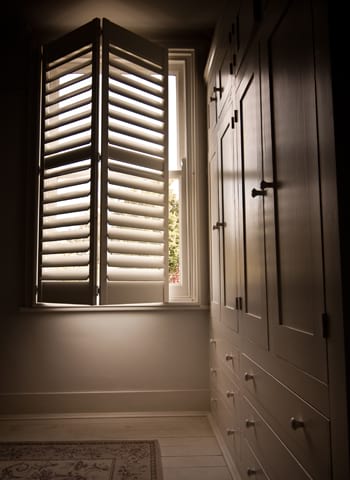 Tier-on-Tier shutters
Beautiful lines and extra privacy is never more evident than with our tier-on-tier shutters. You can control how much light and privacy you have by combining the coverage as if you had full length shutters but with the light-flow of café-style shutters.
Very polite, out new dust sheets down, clean and tidy, excellent customer service, organised.  Excellent work
I am delighted with your suggestion of the woodgrain frames in the kitchen – gives a more authentic look
Great team work, very efficient with detailed finishing. Significantly reduced the noise! Will highly recommend to friends and family
If you would like to find out more about our range of custom shutters, or want to get a free, no-obligation quotation for your project, please contact our team at Origin Shutters today.