Stunning bespoke shutters designed for your Surbiton home
Are you looking to add some privacy to your home in Surbiton or Berrylands in Surrey? Perhaps you are hoping to give a room a makeover with a fresh and clean new look? Would you like to control the amount of light that you have in one of your rooms?
At Hamiltons, we can fit a huge range of bespoke shutters to suit any home and window, including Bay windows and bifold shutters. Operating throughout Surrey, London and the Home Counties, we are committed to the highest levels of craftsmanship along with the use of the very best materials available on the market, so we can create made-to-measure shutters for any home.
Our range includes:
Blackout shutters
Café-style shutters
Full-height shutters
Tier-on-tier shutters
Our team has over 50 years' supplying and installing window shutters for domestic and commercial clients and we are able to offer expert advice and help. We can also cater for all budgets and stylistic preferences and our experience and knowledge will give you reassurance and peace of mind. Check out our gallery to see some of the stunning bespoke shutters we have installed recently.
Call us now, for a free, no-obligation consultation and quote on 020 8629 1164.
Why install window shutters in your home in Surbiton?
Blinds, shutters and curtains can have a huge impact on the atmosphere and character of your home. With the right products, colours and style you really transform the look and appeal of any room. But why install window shutters?
Here are just a few reasons:
Offer different levels of light and privacy: Window shutters are very versatile and can provide varying levels of privacy and light that curtains and blinds cannot offer. You can also have complete privacy, whilst letting in a generous amount of light.
Perfect for unusual or irregular window shapes: We can custom-make your shutters so they fit your windows, so they look perfectly balanced. Large windows suit wider louvres and smaller windows look better with smaller louvres. We can also cater for interior and exterior shutters and shutters fro French windows.
Improve energy efficiency: Our shutters are custom-built for the window, so there is less space for cold air to get into the room. This means they can significantly improve energy performance and contribute to lowering fuel bills.
Durable and long-lasting: Our made-to-measure window shutters are made from high quality materials that will last and they are fixed in place, so are far less likely to suffer from wear and tear.
Reduce external noise: Depending on the material the shutters are made from, this can reduce the external noise within a room, so if you live on a noisy road, noise pollution will be reduced.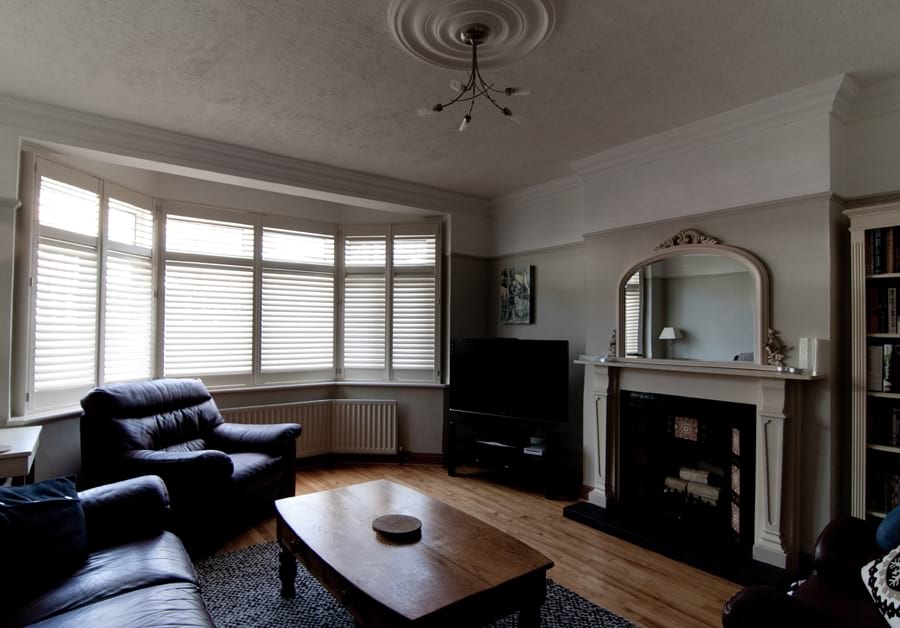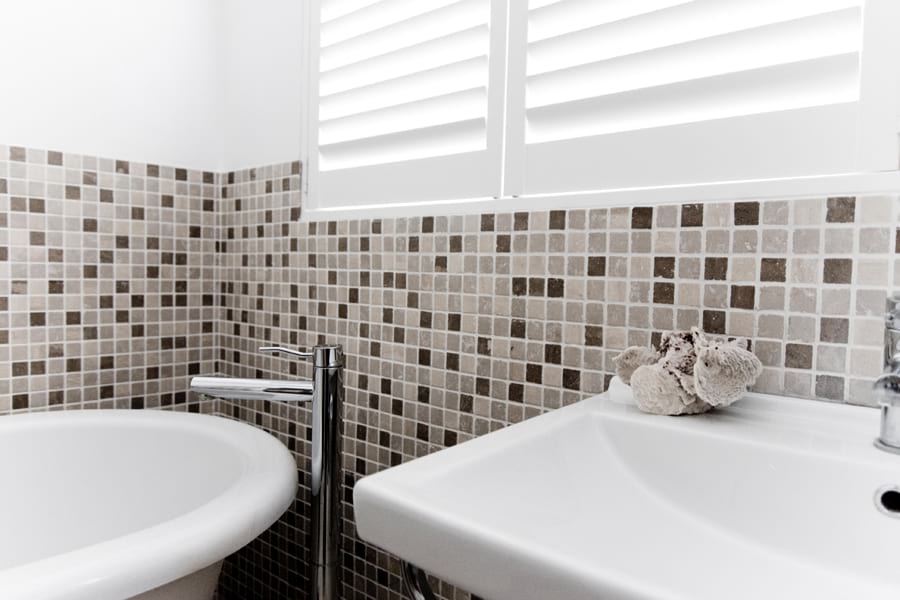 Blackout windows shutters in Surbiton
Blackout shutters are standard full-length plantation shutters that feature built in blackout blinds. If you are a light sleeper or need to sleep during the day, these shutters provide the perfect solution. They are also popular for nurseries and cinema rooms. They can be fully tailored to your exact specifications, including the level of darkness you require.
Café-style shutters near Surbiton
These shutters cover just the lower portion of the window, so allow in plenty of natural light. Originating from French cafes, they create a cosy and private experience and are a cost-effective alternative to full-length shutters. These cafe style shutters are great for windows at street level and ground-floor flats.
Full-height shutters near me
These shutters cover the length and breadth of the window and create a clean and elegant look. These shutters are suitable for all rooms in the home and can also be used as room dividers. They are also ideal trade shutters for contractors and companies in the building industry; if you are looking for affordable, versatile and stunning plantation blinds, please contact us.
Tier-on-tier shutters local to Surbiton
These versatile shutters are a popular choice of plantation shutters. They consist of two sets of shutters, one above the other, allowing them to be opened or closed independently of each other. This allows for complete control over light and privacy.
Which room are the shutters for?
Perhaps the biggest factor to consider when choosing your blinds is what function you need them to perform within a specific room. Here are some common examples.
Bedroom: Many homeowners choose blackout shutters for bedrooms and nurseries, as they encourage a calm sleeping environment that is free from light intrusions.

Cinema room: Like bedroom shutters, cinema rooms are commonly fitted with blackout shutters as they prevent any light glare on the screen.

Kitchen: Full-height wooden shutters are popular for kitchens, as they let in plenty of natural light. A lot of homeowners choose waterproof shutters for the cooking area.

Bathroom: It is sensible to opt for waterproof shutters in the bathroom, as uPVC will not warp from the moisture. For privacy, you may choose full-height shutters.

Office: Full-height and café-style shutters are both popular for home offices, as they ensure privacy while creating a bright space. If you find that your computer screen is affected by glare from the sun, then you can rectify this with full-height shutters.
Looking for made to measure shutters or plantation blinds in Surbiton? Contact our shutter company today!
We want to provide you with the perfect window shutter solution for your property and we can help you make the right decision; whatever stage of the process you are at! Please contact us on 020 8629 1164, email info@hamiltonwindows.co.uk or fill in an online enquiry form and we will give you a call back!